SUPER T-market
performance + fashion & art market (2013)
Tomoko Mukaiyama & guest artists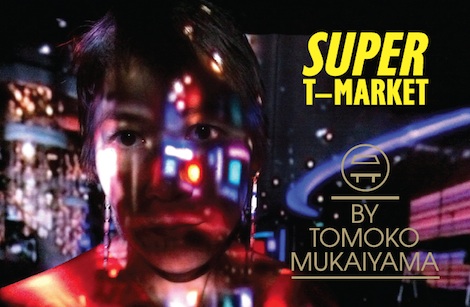 photo: Kiriko Mechanicus
concept
The concept of SUPER T-market is art & consumerism. The formula was developed after the great success of Tomoko's personal wardrobe sale during her performance SHOES'. She sold hot fashion items by Alexander McQueen, Givenchy, Christian Dior, Yamamoto, Issey Miyake a.o. . The audience – and among them many fashionistas – appreciated the great selection; her wardrobe SALE has become a best kept secret in fashion circles.
SUPER T-market offers more than just fashion. Next to Tomoko's own piano concerto in the auditorium, Tomoko curates the evening with young and talented designers, theatre makers and musicians.
SUPER T-market is the place where young talented artists show their work and sell it directly to the audience on the spot.
The edition of 6 December takes place at Muziekgebouw aan 't IJ, Amsterdam, during a 'Listen to This' event. SUPER T-market presents a live popband of mannequins by Oscar Jan Hoogland, surreal electronic and vocal music by one woman band FETTER, a first 3D printed shoe presented to you in a procession by fashion designer Duran Lantink, knitted masks by visual artist and performer Carmen Schabracq and monumental tricot dresses by students of the Fashion Dept. of Rietveld Academy.
The sale consists of items within the price range of € 1 – € 500,- The profit of the wardrobe sale by Tomoko is used for her own new projects. The profit of all other items go directly to the artist. By buying, you can make yourself – or someone else – happy and you are supporting the arts and artists directly!
photos: Joris Jan Bos
credits
concept, piano: Tomoko Mukaiyama
guest artists:
FETTER (Jessica Tucker), multi media artist, musician & producer
Carmen Schabracq, visual artist
Oscar Jan Hoogland, improviser, pianist & composer
Duran Lantink, fashion designer
Rietveld Academy fashion department, 1st and 2nd year students
production
Tomoko Mukaiyama Foundation
Muziekgebouw aan 't IJ
support
Fonds Podiumkunsten