SUPER-T Artwalk

concept
On November 20, in various places in the city, behind the windows of residential houses display the works of emerging artists and designers to admire. Along a walking route that shows the most beautiful places in East, the center and the Jordaan, you can see stimulating art by Noa Jansma, Kiriko Mechanicus, Manuel Pellegrini, Isabel Pontoppidan & Simo Tse.
Artists
Along a hiking route with five locations you walk past the Entrepotdok, to the Amstelveld through East, towards the Jordaan (Elandsgracht) and then along the Bloemenmarkt and the Groenburgwal.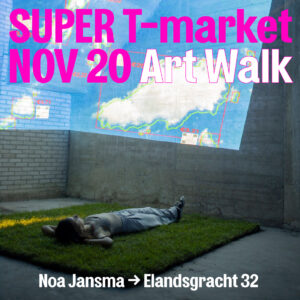 With the video work 'Buycloud' by multimedia artist Noa Jansma, she investigates the transformation of natural phenomena into 'exploitable resources'. A process that, according to Jansma, comprises a story that must be told in relation to the past (colonialism), the present ('climate change', 'corporate land grabbing') and the future ('alien occupation').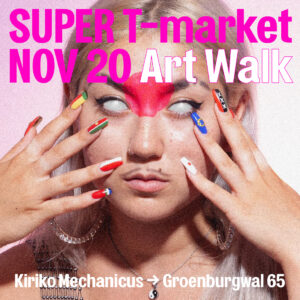 Filmmaker and director Kiriko Mechanicus makes films and documentary photography about identity and community. She regularly works with existing archive material that she finds online. Subjects that often recur in her work are globalization, social media and the glamor culture. For this Artwalk Mechanicus has made a short film related to the SUPER-T Market concept.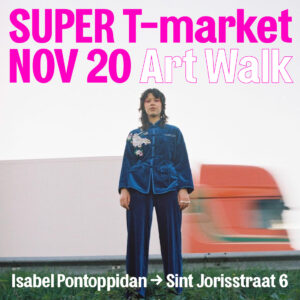 Artist, writer and jewelry maker Isabel Wang Pontoppidan (Rietveld) performs a reading in front of the Artwalk on set times. Her work focuses on the issues of identity that many individuals from both Eastern and Western diaspora struggle with.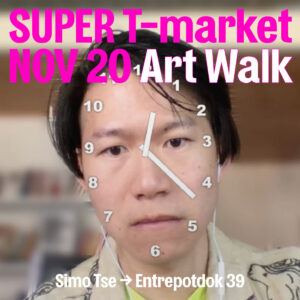 Simo Tse (Sandberg Institute) is a graphic designer, artist and independent researcher.
With his artistic work, Tse explores the intimacy and alienation of ourselves and others. His work 'Living in a Blur' originated in the pandemic, in a time of loneliness and FOMO (Fear of Missing Out) and is aimed at everyone who suffers – to a greater or lesser extent – from performance anxiety.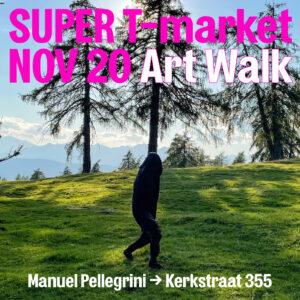 Self-proclaimed experience designer and storyteller Manuel Pellegrini believes that design should be experienced as joyful and reflective of emotions, and through his work wants to encourage his audience to do more great things in their lives. His work 'The Bag' is a body-sized bag in which you can contemplate your existence and the big issues in life.
The Artwalk is organized on the basis of the SUPER-T-Market concept.
The multidisciplinary platform and festival with art, music performances, food and design explores the tension between art and consumerism.
Artist, pianist and director Tomoko Mukaiyama is the initiator of both the city tour and SUPER-T Market and invites emerging, talented artists, designers and other creatives, whose work you can buy on the spot.
Locations
The city exhibition can be seen for free at the following locations:
Entrepotdok 39
Groenburgwal 65
Elandsgracht 32
St. Jorisstraat 6
Kerkstraat 355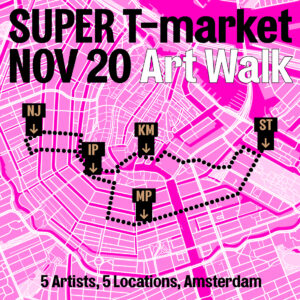 Date and time
The exhibition can only be seen on Saturday 20 November from 11.00 to 20.00
support
Fonds Podiumkunsten, Muziekgebouw aan 't IJ