East Shadow
dance performance, video, live music
Jiří Kylián (2013)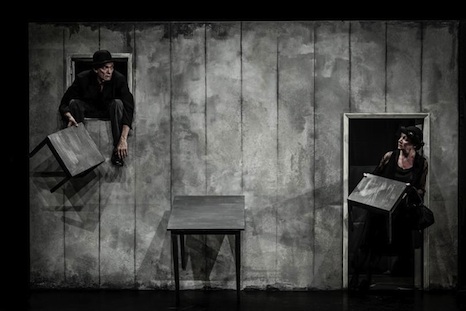 photo: Jason Akira Somma
concept
East Shadow is inspired by the world of Samuel Beckett and dedicated to the victims of the Tsunami that hit Japan in 2011.
Choreographer Jiří Kylián was asked in 2012 by Tetsuya Ozaki from the Aichi Triennale in Nagoya – Japan and by Tomoko Mukaiyama to create an original work for the Aichi Triennale, a Performing and Visual Arts festival that took place in the Summer of 2013.
The story that Kylián wanted to tell is as simple and as banal as can be:
"….Two people, a man and a woman meet and decide to move into an apartment,
which they would like to call their home…. soon, through some surreal, humorous and tragic circumstances, they realize that their happiness is only a wishful thinking – an utopia….finally they are washed away by an earthquake and a tsunami – only their hats are left behind – otherwise nothing, nothing at all. They were just "simple" people…."
The title comes from Samuel Beckett himself. In his instructions for the play But the clouds he talks about the "east shadow" and the "west shadow" – Simply by stating that, Beckett creates a very strange and almost philosophical question to contemplate: the eastern sun casts a shadow lying westwards, the western sun casts a shadow lying eastwards…. but it is impossible to determine which is the "East Shadow"!
It is ambiguous: very simple and very complicated – as life is.
credits
choreography & concept: Jiří Kylián
assistant to the choreographer, video & soundscape: Jason Akira Somma
music: Franz Schubert Piano Sonata D959 Andantino, Tomoko Mukaiyama Beginning (2013), East Shadow (2013, inspired by Charlemagne Palestine and Somei Sato)
text: Samuel Beckett's Neither
voice recitation: Olivier Kruithof, Jiří Kylián
performers: Sabine Kupferberg, Gary Chryst
film: Jason Akira Somma
piano: Tomoko Mukaiyama
artistic assistant, stage manager: Patrick Marin
costume design: Joke Visser, Hermien Hollander
set design: Jiří Kylián
technical production & light design: Loes Schakenbos
wardrobe: Tina Tuit
project manager: Carmen Thomas
world premiere: 14 September 2013, Nagoya – Japan for Aichi Triennale 2013
production
Producers: Aichi Triennale 2013 (JP) and Kylian Productions BV (NL)
Co-producers: Rolex (JP), Tomoko Mukaiyama Foundation (NL), Monte Carlo Dance Forum (MC), Beckett International Festival (IRE), Athens Epidaurus Festival (GR), Korzo Productions (NL)
support
Fonds Podiumkunsten