Me, Peer Gynt
installation performance (2018)
Tomoko Mukaiyama & Maya Fridman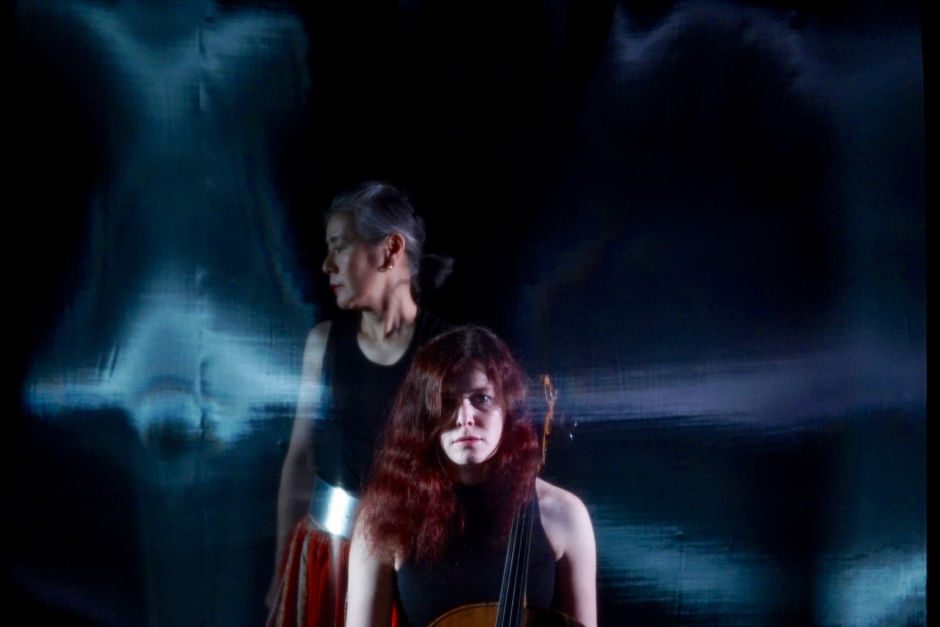 The starting point of 'Me, Peer Gynt' was the ballet by Alfred Schnittke (1934-1998), which premièred at the Hamburg State Opera on 22 January 1989. The story of Schnittke and Neumeier is loosely based on the story of Peer Gynt, a well-known play by the Norwegian dramatist Henrik Ibsen.
In the original tale by Ipsen, the protagonist Peer leaves his small hometown in Norway and starts his voyage around the world. As he ends up on a Moroccan beach, he becomes the king of an insane asylum in Egypt. Wondering in the middle of desert, Peer unashamedly keeps desiring for wealth, power, romance and other virtues. In the end of his life, he realizes that he is nothing but an "onion", deprived of individuality and thus will be dissolved into nothingness. Was he a failure in being himself?
The subject of Peer Gynt is relevant as a metaphor of people today who have lost connection with their inner core. With Me, Peer Gynt, we create an inner journey. An eternal journey in which we seek for own identities. The cynicism towards nothingness is not the core of the tale in Me, Peer Gynt. I rather wanted to understand this egoistic and ordinal man through the eyes of his mother Åse and his fiancée Solveig, two women who have given unconditional love and deep recognition to him.
The installation of 'Me, Peer Gynt' divides the inner and outside of the world, it reflects one's imagination, creates spatial leap and stands for no-lineal time lines.
Credits
Composer: Alfred Schnittke
Music Arrangement: Alfred Schnittke/Maya Fridman
Direction: Tomoko Mukaiyama
Cello: Maya Fridman
Piano: Tomoko Mukaiyama
Lightdesign: Pavla Beranova
Technical direction: Yutaka Endo
Installation: Tomoko Mukaiyama/Ting Gong
Produced by: Tomoko Mukaiyama Foundation
Co-produced by: Korzo Theater, Grachtenfestival, Gaudeamus Muziekweek
Supported by: Fonds Podium Kunsten, Luftzug
Premiere
6 September 2018, Korzo, Den Haag