Successful opening at Holland Festival
posted on June 24th 2014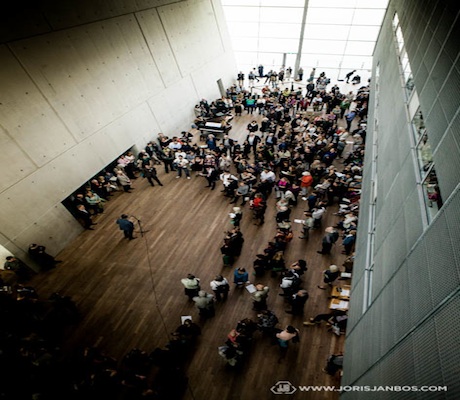 On the 2nd of June an audience of around 350 people of many different nationalities got together in the Atrium of the Muziekgebouw aan 't IJ. They witnessed the Dutch premiere of Nocturne, the installation I created with two grand pianos that 'died' in the horrendous tsunami in March 2011. For this special opening night, I performed a famous Nocturne by Chopin, intertwined with various pieces by modern composers and different 'sound-effects' that underlined the deeper meaning of the installation.
Much to my happiness, this opening manifestation was a big success; I received a lot of heart-warming reactions and people donated very generously to Piano Donation. This is a special fund that is raising money to buy new instruments for the children in the region of Miyagi, that was robbed of almost everything by the earthquake and tsunami in 2011.
You too can still help 'to give music back to the children', look here if you like to learn more about this initiative.
The installation is presented until Sunday 29 June. I really hope you have a chance to see and experience it.
For more information also see: Holland Festival.