Nocturne at Holland Festival 2014
posted on March 7th 2014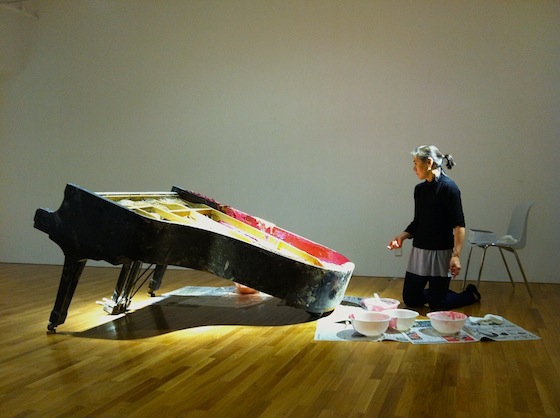 It is an honor that the prestigious Holland Festival invited my work Nocturne for the coming edition in June.
2 – 29 June – exhibition of two dead pianos at the auditorium of the Muziekgebouw aan 't IJ.
2 June at 6.30pm – piano concert with video.
The concert is free accessible, but we ask kindly for a contribution that we will donate to an organisation called Piano Donation. This organisation buys pianos to return to public schools that were affected by the tsunami.
Background information of Nocturne
Three years ago, the day after the tsunami disaster of 11 March, I received a phone call from a curator in Japan who we were going to do a project with. He told me they had lost everything. Everything. Families, children, houses, schools and hope; hope was lost as well. To me, it was unimaginable what had happened. I simply could not grasp the magnitude of the disaster, could not understand it and could not imagine it. The curator continued to inform me, telling me one day that on a street corner he had seen seven dead pianos, completely destroyed. As the human suffering was too great to comprehend, this image helped me a little to start to realise what had happened. All these dead bodies of pianos became the symbol to me of all the personal suffering of families, schools, music schools, theatres and community centres.
The curator asked me whether I wanted to create a project. Despite the fact that people had lost their homes and possessions, he tried to use art and music to find some new hope in the situation the region was in.
I requested two pianos to start my project with. When the curator asked various schools for their destroyed pianos, he received a lot of criticism. They couldn't understand that he wanted to present a work of art using the dead bodies of the pianos, when throughout the area the bodies of people needed to be recovered. Two months later, I went to Japan myself and spoke with the people in an evacuation centre about the disaster and their lives. One story touched me deeply and inspired me to create my installation and the 'Nocturne' concert. A young mother told me that on the day of the tsunami she had been out of town. As all communication and all transport were down, she decided to walk home, not knowing if her family was still alive. Walking through the night, she witnessed hell on earth. Surrounded by death, passing devastated houses and broken roads. When she finally arrived home ten hours later at the break of dawn, she found her husband and ten year old daughter safe and well.
More information at Holland Festival.