CD with 'Night Butterflies' now on sale
posted on November 16th 2014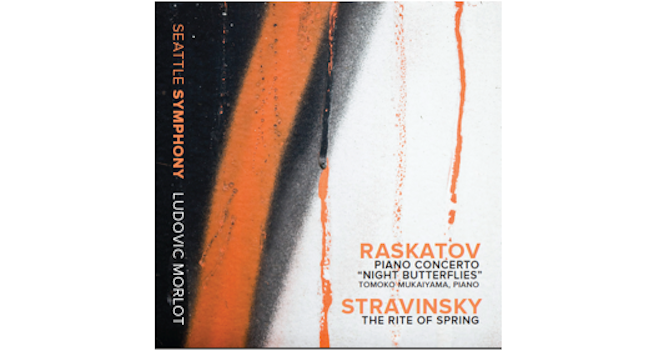 After hearing an amazing opera A Dog's Heart by Aleksander Raskatov, directed by Simon McBurney some years ago, I asked Raskatov if he could compose a new piano concerto for me. He created 12 very vivid movements of colourful piano concerto, called _Night Butterflies_. In the 12th movement he quoted a Russian folk song. It was one of the most emotional pieces of music I ever performed.
Thomas May of _Bachtrack_ wrote regarding its U.S. premiere about this performance: "[Mukaiyama's] spectacularly vivid performance emphasized the composer's extremities of gesture — ostinatos that crystallize into earworms, outbursts crushing in their violent force, vertiginous glissandi … but also conveyed the surreal cumulative effect of this abundance of contrasts." Conceived after visiting a greenhouse in France inhabited by different species of butterflies as well as plants, Raskatov was reminded of a childhood walk in the forest near Moscow. The musical butterflies and orchestral soundscapes are varied and carry influences of Messiaen, Mussorgsky, Webern and Stravinsky, yet display Raskatov's original sonic imagination. The CD is complemented by Stravinsky's Rite of Spring.
Digital downloads and CDs are now available through iTunes and Amazon.